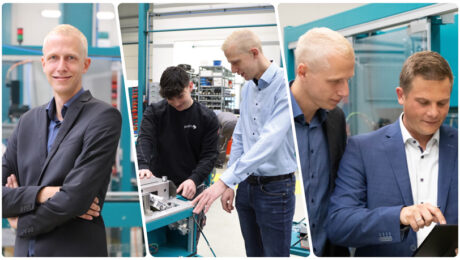 Lesedauer:
< 1
Minute
Ingo Rathmann (33) has been with the project group for over ten years. Born in Borken, Münsterland, he moved to Bocholt after completing his secondary education where he commenced mechatronics studies. His first contact with project was at the end of his studies when he completed three months of practical experience at our facility in Kranenburg while also writing his bachelor thesis here. He was appointed Managing Director of the newly established project Automation & Consulting GmbH in 2021, a spin-off within the group that focuses on engineering and planning. He answered a few personal questions put by the project Newsletter editors.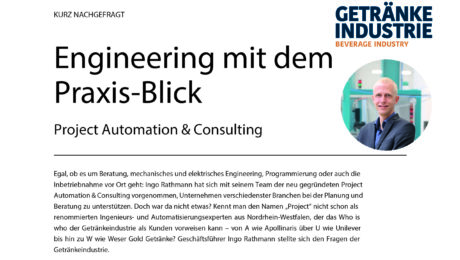 Lesedauer:
< 1
Minute
"Getränke Industrie", the leading German trade journal when it comes to beverage industry, highlighted topics of packaging industry in its December edition. The German speaking international community can have a look at an interview conducted with Ingo Rathmann (
PDF
). Some of the topics, Ingo talks about were the following ones: project A&C`s role within project group; why both theoretical know how and practical capabilities are relevant for his team, some insights in projects he implemented, and why for him it is crucial working at eye level with the customers.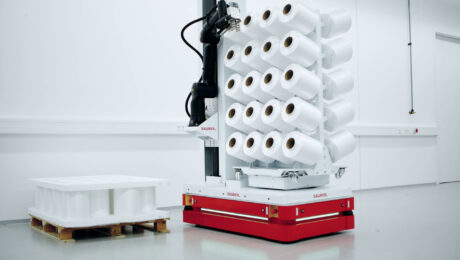 Lesedauer:
< 1
Minute
Saurer Technologies GmbH & Co. KG developed in collaboration with the project Automation & Consulting GmbH an Autonomous Guided Vehicle (AGV). This is equipped with a magazine and a handling system. A 7-axis cobot is integrated in this solution. This cobot is installed on a linear axis which makes it extremely mobile. This enables the cobot to load the twisting machines with packages at different heights.